December
November
October
September
July
June
May
March
December
November
October
September
July
June
May
April
March
February
January
December
December 10th 2016
Recit'art
Gallery 24B - Paris
It is through the art galleries of Paris that soloists of the Ensemble MULTILATÉRALE will wander one after another in the coming seasons. The first stage of this itinerant itinerary will take us into the gallery 24b.
November
November 15th 2016
Masterclass-Recital : Laurent Camatte
Gennevilliers - Auditorium du Conservatoire Edgar-Varèse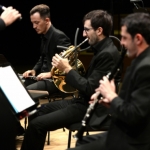 Throughout the year, soloists from the Ensemble MULTILATÉRALE will give Master classes on the most advanced instrumental technics to composers and instrumentalists from Gennevilliers Conservatoire. Every soloist will close its master class by a recital.
July
From July 1st to 9th 2016
Altitude University #1
Saint-Martin Vésubie (Alpes-Maritimes – France)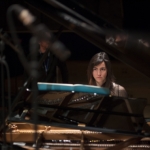 From composition to creation The Altitude University welcome every year ten young composers from all over the world. Selection is made upon application. Professors conduct seminars, workshops and individually tailored classes. Specially written for the Ensemble Multilatérale, the student's pieces are rehearsed and played by the Ensemble at the yearly session's final two concerts
April
April 6th 2016
Prix Saint-Christophe du jeune compositeur
Paris - Nef du Collège des Bernardins
Devant 300 invités, l'ensemble Multilatérale et les Métaboles ont interprété avec talents les œuvres inédites inspirées du psaume 110 composées par les six finalistes en lice. A l'issue du concert, le public et les membres du jury ont voté pour nommer les lauréats du Prix du jury et du Prix du public. Stanislav Makovsky a reçu le Prix du jury avec « Dixit Dominus Domino meo ». Puis, Daniel Campbell a été récompensé par le public pour son œuvre « Et in Saecula Saeculorum ».
March
March 19th 2016
Singapour / Indonesia / Thailand - Concert 5
Bangkok - Arts and Cultural Center
March 16th 2016
Singapour / Indonesia / Thailand - Concert 4
Jakarta - IKJ
March 14th 2016
Singapour / Indonesia / Thailand - Concert 3
Jakarta - Theater Kecil Taman Ismail Marzuki
March 11th 2016
Singapour / Indonesia / Thailand Tour - Concert 2
Singapour - Y.S.T. Conservatory of Music
March 9th 2016
Singapour / Indonesia / Thailand Tour - Concert 1
Singapour - Y.S.T. Conservatory of Music
February
February 9th 2016
Festival PRESENCES
Paris - Radio France, Studio 104
October
October 9th 2015
Berio and the Writter
Villemomble - Conservatoire Maurice Ravel
June
June 26th 2015
Opera Barga - Summer Composition Academy
Lucca, Italie
June 25th 2015
Opera Barga - Summer Composition Academy
Barga, Italie
April
From March 13th to 18th 2015
ALIADOS, A Real Time Opera
Nancy - Opéra national de Lorraine
March
March 25th 2015
ALIADOS, A Real Time Opera
Nîmes - Théâtre
March 18th 2015
ALIADOS, A Real Time Opera
Nancy - Opéra national de Lorraine
March 17th 2015
ALIADOS, A Real Time Opera
Nancy - Opéra national de Lorraine
March 16th 2015
ALIADOS, A Real Time Opera
Nancy - Opéra national de Lorraine
March 15th 2015
ALIADOS, A Real Time Opera
Nancy - Opéra national de Lorraine
March 14th 2015
ALIADOS, A Real Time Opera
Nancy - Opéra national de Lorraine
March 6th 2015
ALIADOS, A Real Time Opera
Caen - Théâtre
March 5th & 6th 2015
ALIADOS, A Real Time Opera
Caen - Théâtre
January
January 23rd 2015
Mitsou, History of a Cat
Saint-Quentin-en-Yvelines - Theater
September
September 27th 2014
Mitsou, History of a Cat
Festival Musica - Strasbourg
September 26th 2014
Mitsou, History of a Cat
Festival Musica - Strasbourg
March
March 28th 2014
Festival Aspects des musiques d'aujourd'hui
Caen - Festival Aspects des musiques d'aujourd'hui
January
January 31st 2014
ALIADOS, A Real Time Opera
Saint-Quentin-en-Yvelines - Théâtre
January 13th 2014
Isis & Osiris - Jacques Lenot
Paris - Ircam, espace de projection
October
October 11th 2013
ALIADOS, A Real Time Opera
Romaeuropa - Teatro Palladium
october 5th 2013
ALIADOS, A Real Time Opera
Festival Musica - Strasbourg
October 4th 2013
ALIADOS, A Real Time Opera
Festival Musica - Strasbourg
September
september 21st 2013
La Nuit Hallucinée - Sebastian Rivas
Festival Musica - Strasbourg
June
June 19th 2013
ALIADOS, A Real Time Opera
Gennevilliers - T2G
Jue 18th 2013
ALIADOS, A Real Time Opera
Gennevilliers - T2G
June 17th 2013
ALIADOS, A Real Time Opera
Gennevilliers - T2G
June 16th 2013
ALIADOS, A Real Time Opera
Gennevilliers - T2G
June 15th 2013
ALIADOS, A Real Time Opera
Gennevilliers - T2G
June 14th 2013
ALIADOS, A Real Time Opera
Gennevilliers - T2G
May
May 14th 2013
Festival Extensions
Gentilly - Le Générateur
March
March 18th 2013
Face to Face
Putaux - Palais de la culture
March 1st 2013
Alla Breve recording - Samuel Andreyev
Paris - Maison de la Radio